Delivery of Friato Christmas Kits
More than 20 tons of Friato products were distributed.
quarta, 28 de dezembro de 2022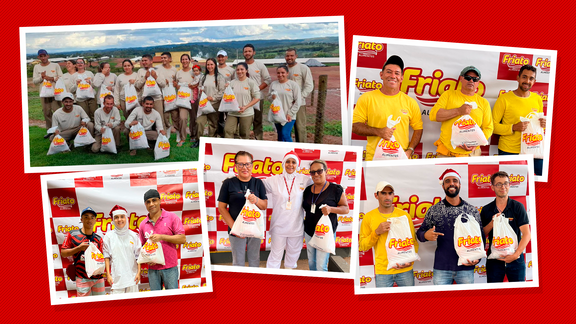 The delivery of Christmas kits to Friato employees and other Tomazini Group companies was a great success! More than 20 tons of Friato products were distributed, including Whole Chicken, Chicken Mortadella and Requeijão.
Employees were very happy with the gifts and thanked the company for its care and attention. Some of them even made a point of sharing photos of the kits on their social networks, showing everyone how happy they were with the surprise.
In addition, the delivery of Christmas kits also contributed to the creation of an environment of fraternization and unity among all employees. It was a great way to end the day and celebrate the achievements made during the period.
We would like to thank everyone for their incredible work and commitment during the year. The success of the Friato brand is the result of the efforts of each one of you and we are very proud of what was achieved together. We thank you for your commitment and dedication and we hope to continue counting on your talent and dedication in another year of work.
We wish you all a great New Year!